---
---
INNOVATE LABS - HELLFIRE - 90 Capsules
HELLFIRE is no joke even for people who are used to the effects of Ephedra. This metabolic monster contains a downright scary 150mg of Ephedra that you do not want to misuse. Seriously, if you're not the hardcore type and aren't out to challenge that MMA champion to a few rounds in the ring, maybe you should step back and reconsider what you want in a supplement. It's even stunned a few hardcores who have taken Ephedra supplements before because they've never seen intensity like this. Hellfire is only for anyone who is serious about ramping up their energy levels for those intense runs, folks.

HELLFIRE is the hard-pumping, stimulant-filled, get-up-and-go supplement for people used to living on the edge and getting that adrenaline pumping. On top of the 150mg of Ephedra, this supplement has 150mg of caffeine, 140mg of the proprietary StimMax compound and 95mg of the ThermoCore compound. It stimulates your metabolism for up to eight hours, elevates your mental and physical focus and endurance, crushes your appetite and gives you the alertness you need to survive those crazy obstacle courses. This blazingly hot supplement will give you an intense euphoric sense that makes you feel like Superman, so make sure you don't lose your common sense while using it.

You should only use HELLFIRE if you are intent on being that hard-charging daredevil even on days when you would normally be dragging your way through your daily routine. It is so intense, in fact, that you should stock plenty of water or your favorite sports drink where you can easily get at it because these powerful thermogenic compounds can easily dehydrate you and increase your risk of heatstroke. You won't impress your high-octane friends if you ignore warning signs and end up wiping out simply because you overheated. You will impress them if you use HELLFIRE wisely and nail that difficult stunt with your ramped-up energy levels and mental focus.

Is HELLFIRE for you?
Well, if you're intent on just watching extreme sports on TV, it won't do to go through the roof just because things get a little exciting. If you're the one out there participating in that extreme sport, this supplement can combine with your training to give you that extra edge you need to get out there and win. HELLFIRE won't replace pure skill and you'll still have to go the distance, but you'll be the champ if you're willing to give yourself that extra level of intensity.
Note: Manufacturers continually change product specifications. While we try our best to keep product descriptions up to date, they do not necessarily reflect the latest information available from the manufacturer. We are not responsible for incorrect or outdated product descriptions and/or images.
FDA: These statements have not been evaluated by the Food and Drug Administration. This product is not intended to diagnose, treat, cure, or prevent any disease.
What's In Innovative Laboratories HellFire Fat Burner?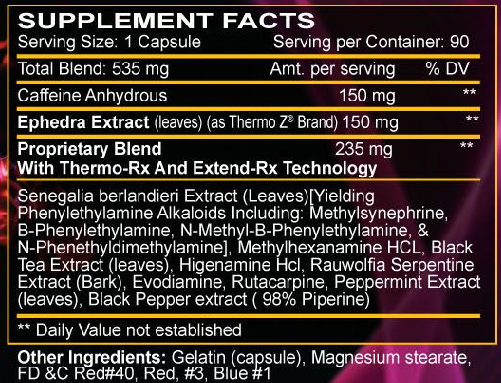 How to Take Innovative Laboratories HellFire Fat Burner:
As a dietary supplement, begin by taking one capsule of HellFire Fat Burner per day. For best results, take twice daily. Do NOT take within 6 hours of sleep. NEVER exceed two capules of HellFire Fat Burner in any 24 hour period.
Warnings:
As with any dietary supplement, we recommend that you consult a physician before use. This product is not intended to diagnose, treat, cure, or prevent any disease.KEEP OUT OF REACH OF CHILDREN  or anyone under 21 years of age. If you have or have had a medical condition or are currently using prescription drugs consult your physician before using this product. Avoid this product if you have any previous history of medical dysfunction or disease, including but not limited to high blood pressure, heart, kidney, thyroid, or psychiatric disease, difficulty urinating, prostate enlargement, anxiety, depression, seizure disorder, or have had a stroke. Do not combine this product with other medications or supplements. Do not exceed suggested servings.  Consult your health care professional before use if you are taking any prescription drugs. Consult your health care practitioner before beginning any weight loss program.
PLEASE NOTE: Product image is representative of the product offered but may not have the exact attributes. Please read product description for the specific attributes of this product.
PLEASE NOTE: The information above is intended for reference only. While we attempt to keep our information accurate, we cannot guarantee it is an accurate representation of the latest formulation of the product. If you have any concerns, please visit the vendor's web site. The information above are the views of the product's manufacturer, not the views of Same Day Supplements. These statements have not been evaluated by the Food and Drug Administration. This product is not intended to diagnose, treat, cure or prevent any disease.
*Prices are subject to change at any time and some items are limited to stock on hand.
---